SISTER WIVES
'Sister Wives' exclusive: Kody calls Mykelti's gender reveal 'bittersweet' amid family tension
The Brown family gathers virtually to learn the gender of Mykelti and Tony Padron's twins in an upcoming episode airing Nov. 12.
A family Zoom call brings a mix of happiness and sorrow for the Brown family in the upcoming Nov. 12 episode of "Sister Wives."
In TODAY.com's exclusive clip of the moment, Mykelti and Tony Padron host a virtual gender reveal for their immediate family after announcing that they are expecting twins. It's a joyous moment that's somewhat clouded by the ongoing tension in the family.
"I was really happy that, you know, even though there's strife and struggle there, (this) is still a family," Mykelti Padron says in a confessional interview. "We can still try to be a family, which is ultimately always what I've wanted, is that even through the separation, that my family is still a family, just different."
Her husband, Tony Padron, agrees and says, "Yeah, I think it says something that they're willing to get together for big life stuff. (It) tells you that there's still something there, which is nice to see."
Several of Mykelti Padron's siblings are present on the call and Kody, Robyn and Janelle Brown are as well. Kody and Janelle Brown's ongoing separation has been a focal point of Season 18 of "Sister Wives," and the mother of six reflects on the interesting dynamics of the call in a confessional.
"I think it's great that Robyn and Kody are on this call. They are a couple. I don't have a problem with seeing them as a couple (or with) them participating in family stuff as a couple. It's just what it is," she says.
During the Zoom call, the family speculates on the gender of the twins, then the big reveal shows that Mykelti and Tony Padron are expecting two boys. The couple already have a daughter named Avalon.
"They're not identical, so we don't have to worry (about) mixing them up," Mykelti Padron says in the clip.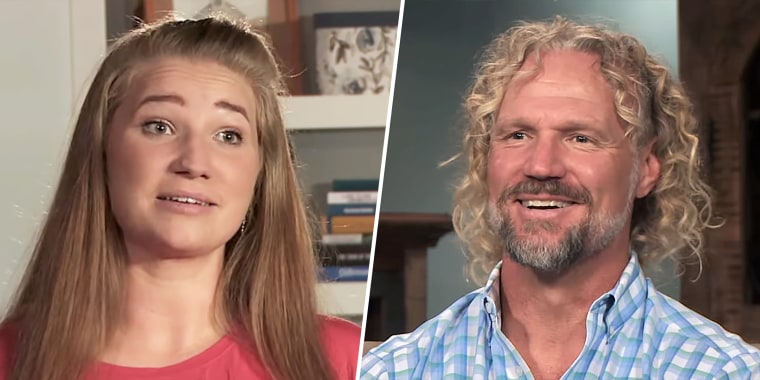 In a confessional, Kody Brown offers the following reaction: "I'm just as excited as I would be if they were a pair of girls."
The father of 18, who has spoken openly about his estrangement from several of his children, reflects on the "bittersweet" nature of the call in his private interview.
"So this whole video chat was very bittersweet, mostly sweet. But I started out being almost in a state of paranoia, with anxiety over the contempt that has been thrown in my direction," he says.
Mykelti Padron then acknowledges her family's troubles in her own confessional.
"It would be absolutely amazing and a dream if my family could completely reconcile and all of us could go back to being one unified family," she says. "I think that they all need each other. Ultimately, I think that all my siblings need each other. I think that Robyn's kids need Janelle's kids and my mom's kids and Meri's kids. We all need each other."
"I think that ultimately we all need our moms, too. As hard as it is, we all need our moms," she continues.