90 Day Fiance
Jasmine & Gino Got Engaged Twice Before Season 1090 Day Fiancé
Despite making their 90 Day Fiancé debut on Season 10, Jasmine Pineda and Gino Palazzolo are no strangers to the TLC franchise. The couple first appeared on Season 5 of spinoff Before the 90 Days in December 2021, and returned for the sixth season in June 2023.
Jasmine proposed to Gino at the end of Before the 90 Days Season 6. Before getting engaged, though, they were teetering on the edge of a breakup. In fact, their relationship nearly imploded more than once throughout their time on the reality series.
TLC started following 53-year-old Gino, a divorced automotive engineer, as he was preparing to fly from Michigan to Panama to meet the "love of his life," Jasmine: a 36-year-old American literature teacher with whom he'd matched on an international dating site nine months prior.
Prior to falling for Jasmine's "personality, brains, and beauty," Gino had begun to lose hope of having children. His plan for the Panama trip was to propose to Jasmine and get her pregnant, so as to fast-track his dream of starting a family. However, Jasmine, who had been cheated on in the past, had a "jealous side" that jeopardized their relationship; she'd get upset when, for example, Gino tipped a female server. Despite their problems, though, the couple decided to get engaged by the end of Season 5.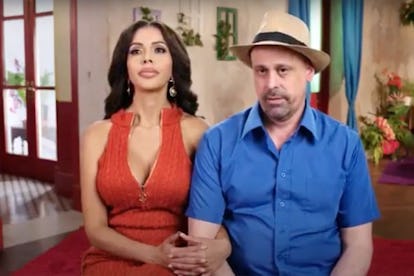 When the couple returned for Before the 90 Days Season 6, they were two-and-a-half years into their relationship, still engaged, and not-so-patiently awaiting the approval of Jasmine's K-1 Visa.
During Season 6, the pair's relationship suffered its share of challenges. Gino took issue with Jasmine's so-called "expensive habits," particularly when she "forced" Gino to rent her a luxury apartment in Panama for a month while she awaited her visa approval. (The K-1 Visa program permits a foreign-citizen fiancé(e) to travel to the U.S., but the visa recipient must marry their U.S. citizen sponsor within 90 days of arrival — hence the series' title.) Disputes over finances continued to cause explosive onscreen arguments, and Gino and his family questioned if Jasmine was only after his money.
Meanwhile, the pair also struggled with communication, trust, and problems in the bedroom. Hoping to resolve some of these issues before getting married, Gino headed to Panama and suggested they sign a prenup, leading Jasmine to call off the engagement. Later, in a last-ditch effort to save their crumbling relationship, she popped the question (again), and they got re-engaged.
In 90 Day Fiancé Season 10, Jasmine finally arrives stateside to begin the titular trial period, but even with the clock ticking, she and Gino still aren't on the same page about wedding plans. The bride-to-be revealed in a Sept. 26 interview with E! that she wants to elope and have a private beach wedding, while the groom hopes to exchange vows in front of family in his native Michigan. And after Gino admitted, "We're still undecided if we're actually going to get married," his fiancée also expressed doubts.
"I'm still not quite sure if I can envision myself getting married and living in America now that I arrived because it has been harder than I thought," Jasmine explained. "I never left my country before and my family and I don't know if I'm going to be able to handle this."
Still, she continued, "I'm very committed now that I'm in America to make it work… So let's see what happens."